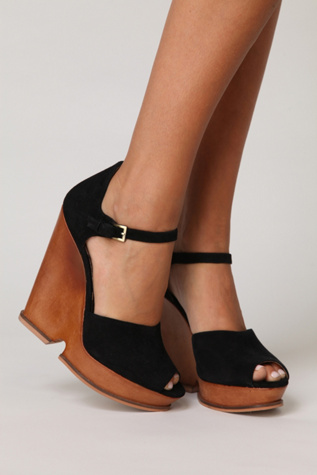 When you were a little girl if your mom was anything like mine, she tended to dress you in Mary Janes because she obsessed over how adorable you looked in them.   You on the other hand (if you were a tomboy like me) passionately disagreed.  They were uncomfortable, shiny and an accessory when brought out reminded you that with them would come a frilly dress or some ghastly floral patterned top and skirt.  Oh yeah, leggings too. And not cute leggings like kids where now-a-days, but those uncomfortable sock leggings that were made out of god knows what fabric and made you itch like hell.  I squirm when I think about it now.  I think Easter was probably the worst.  On top of the leggings, shoes and the ghastly dresses came the gloves.  White gloves may I add.  And a dinky, wide brimmed straw hat with a pink ribbon tied around it.  I unfortunately have pictures to prove it and when I see them I always ask my mom, "What were you thinking?!" To which she would reply, "What? I thought you looked so cute!" ::Cringe::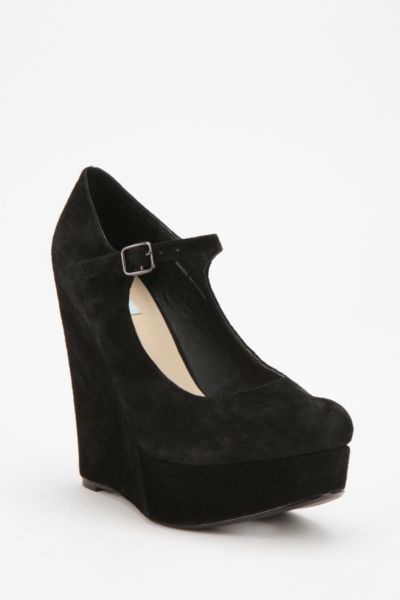 But, now as I am getting older and have started to appreciate fashion, I am finding that I am re-attracted to the shoe that I disdained so much as a child.  Sure, they are not the low heeled, patent leather abominations of my day, but the Mary Jane style is still the same.  Low cut front and a strap secured tightly around your ankle or around the lower half of your foot. Sometimes a T-strap follows behind.  Fairly basic style that can be easily manipulated into your shoe of choice; platform, heel or wedge.  Sure there are still bonafide Mary Janes out there, but when I say Mary Jane I am using using the term very loosely.  When I am looking for these I am searching for a pair of taps that fit the basic terms of the MJ, but still have their own special flair.  Check out some of these vintage MJ's I discovered:


Check out these FABULOUS Mary Janes!


Cricket
Capers

FabGabs

Salvage
Life


What the Seller Says:

Vintage 1980's brown suede mankiller goth mary jane / pilgrim heels. Round toe shoes lead to a high pilgrim "T" style strap with a side buckle and finished with a shapely stacked 4″ heel.



Vintage 60s
"Monkey Girl" Janes


What the Seller Says:

These cute, chunky heels made me want to put on a barely there mini dress and wild tights – they're so funky and fun! Made by Sweet Steps, I love everything about them, from the carmelized color to the t-strap, and fun high heels. I think you will, too!

These shoes are in very good condition. They have been worn, but remain in great shape with no issues I can find to note.

What the Seller Says:

1970's beige leather peep toe heels with teardrop cut outs adorning the toes. Stacked heel and ankle strap.

Excellent vintage, there are a lot of small scuffs and marks and the straps are a little brittle. Still very wearable.

LuckyVintage
Seattle

IrisVintage
Boutique

Pineapple
Mint


Vintage 70s Caramel
Mary Janes



What the Seller Says:

Vintage 1970s browned butter leather mary janes with chunky curved wood heels. round toe with raised top stitch detail, ankle strap with copper tone buckle. Chocolate brown stacked wood heel.

Very good condition – they have some normal scuffing to the leather from wear and some dark smudges on the inside of one heel. not too noticeable when worn, but definitely not perfect. we LOVE them anyway!




What the Seller Says:


Bright red Mary Jane style heels with a peep toe style front with cut out design. So beautiful! The heel is approximately 1/2" thick and there is a buckle to adjust the size of the strap in front. Shoe appears to be made of a leather or leather-like upper and suede in front (there is no material tag). They are in ggreat vintage condition with some small scuffs on the back heel


Vintage 80's
Two-Tone Mary Janes

What the Seller Says:

1980s mary janes pumps with a 1920s/30s style. Grey and cream leather uppers. Leather soles.The maker is Anne Klein. Leather insoles and lining.

Overall excellent condition. Light wear on the soles. A few tiny scuffs on the heels.

TheLovedOne

Thrush

LisaZain


What the Seller Says:

Beautiful brown leather peeptoe heels! Gold tone leather trim. Low cut peep toe at toes. Ankle strap with side buckle





What the Seller Says:

Stunning vintage 1940's rich black suede platform pinup pumps with a very tall heel and platform fronts. Buckled strap at the heel for the perfect fit. Peeptoe, slingback shape and cutouts at the toe. Excellent Condition!

Vintage Wooden
"Mary Janes"


What the Seller Says:

blood red leather strappy platform sandals with criss cross straps over the foot, delicate ankle strap with gold toned buckle and gorgeous curved platform wood soles. foam rubber bottoms with a plastic heel tap.

shoes are in good vintage condition. some wear, no flaws to report.